Generation Z making the dream into reality
The youngest racers competing in the 2017 FIS Ski World Cup Finals may have started at the back of the pack and in the ruts, but all said, they made the most of their World Cup Finals experience. Still, competing at this level means giving up what could be considered normal teenage life and high school. Asked if there was anything he missed from his high school experience, Sam Morse of the U.S. Ski Team, responded with a solid "everything."
"I graduated from high school a year early just so I can be skiing sooner," Morse, now 20 said. "I've been out of school for a number of years now just ski racing full time. I'm not home more than a month a year, so I'm on the road all the time but it kinda becomes the norm."
Morse qualified for the World Cup Finals after winning the men's downhill title on March 8 in Are, Sweden.
Another young American, Alice Merryweather, also qualified for the Finals by winning the World Juniors downhill. Like Morse, she was also born in 1996.
"Oh my gosh it's a dream come true for me." Merryweather said. "I was not expecting to win in Åre, so to be here is just so cool. I'm just happy to be enjoying this experience, you know I went out and sent it today."
On his first trip to the United States, Nils Alphand of France also skied his first World Cup. The son of 1997 World Cup overall winner Luc Alphand, he also has a sister, Estelle, who competes at this level.
Nils, 20, said he knows of no other lifestyle and doesn't mind missing out on normal teenage life. Though his dad had great success on the World Cup, his son said he didn't brag to the children about his accomplishments.
"He keeps it for him," Alphand said. "But we just have our thing and we are doing ours."
What Luc Alphand did share with Nils was "Aspen is pretty cool"
Competing in the Alpine Team event on Friday, and in the women's slalom on Saturday, was 18 year-old Melanie Meillard of Switzerland, who said she has never attended a traditional high school. Through a coach who translated for Meillard, the racer spoke of "how skiing fast does not determine age."
That was proven on Saturday when the teenager beat many of the veterans, including Resi Stiegler of the U.S. Ski Team and Irene Curtoni of Italy, who are both more than a decade older. Meillard's friend, Laurine Deprez, who was raised in a nearby Swiss town but is living this year as an exchange student in Denver, said,
"She was so good when she was young and she still is," Deprez said. "She knew what she wanted: To be a ski racer."
About the Contributor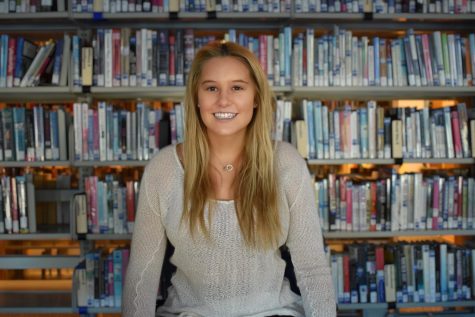 Madison Osberger-Low, Sports Editor
Madison Osberger-Low is a senior at AHS and the Sports Editor for the Skier Scribbler. This is her fourth year writing for the paper and she hopes to...