AHS Skiers Make Absence a Victory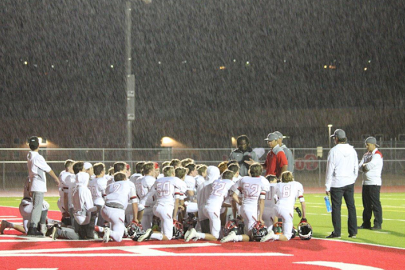 Advertisement
Hang on for a minute...we're trying to find some more stories you might like.
After an Ex Ed week break, the Skiers came back with a win against Grand Valley (30-26) putting the team 4-0 and ranked number 11 in the 2A division. The Skiers are also ranked number eight in a calculation called the "RPI," which is a CHSAA-endorsed ranking system that helps determine playoff spots.
With an undefeated record to date under their belt, the team looks forward to the second half of the season. Coach Karson Pike explained how even with Ex Ed being worthwhile experience for students, absence affects the mental and physical practice components.
"Ex Ed is a phenomenal thing that our students are able to experience. It can be tough on sports teams to come back and pick up where they left off. Especially, football and the style of offense that we play," said Pike. "So much of it is about timing and rhythm. It also can affect conditioning and tackling."
Still, the Skiers managed to pull off a win, in the rain, despite having to wait out a weather delay. Pike said the team knew they would face well prepared players and an accomplished team.
AHS senior Laughlin McIntyre said the rain delay, which probably spoiled Grand Valley's homecoming, worked to their advantage.
"Last week's game was a close one. Our defense was able to hold them after the rain delay and that was huge. Still fun though and a great team to play,'' McIntyre said
He added, "I think our goal is to just keep on our streak of success. We want to improve every game and just be the best team we can be with the guys we have this year."
Coach Pike said that while there are things the team could have done "much better," he gave credit to Grand Valley High School for the way they played.
The Skiers play another away game on Sept. 29 facing Coal Ridge. Then on Oct. 6, the team will battle their rivals, the Basalt Longhorns.