La Nina season hinted with early snows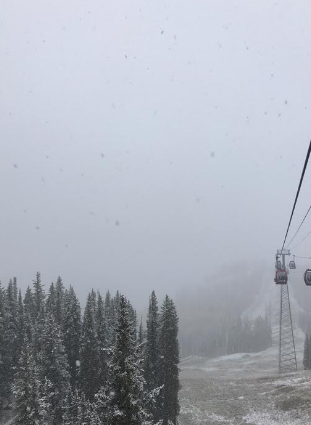 Advertisement
Hang on for a minute...we're trying to find some more stories you might like.
A healthy La Nina snow season that is forecast for Aspen this winter is off to a great start, as seen by two snowfalls so far in October.
According to Aspen Weather, (aspenweather.net), the prediction is that Snowmass will get 340 inches of snow, Aspen Highlands 325 inches and Aspen Mountain 307 inches during the 2017-18 ski season. Aspen Weather does not give a prediction for Buttermilk.
The site stated that this is a normal, or a fraction above season and probably a solid winter. A La Nina year could also mean 17 weeks of full-on snow!
For AHS Skiers who will race in alpine and nordic events, the snowfall is crucial to their competitions and early season training. Junior Margo McHugh, AVSC athlete, explained how important it is for the snow to fall as early as possible.
"Early season snowfall is super exciting and means earlier time on snow, meaning more time to train before the season is in full swing,"  McHugh said.
As students get ready for winter sports, the AHS nordic team starts their training in November, along with the high school alpine team, explained senior Ricky Wojcik.
"The high school team starts training in November. Natural snow isn't crucial because we can rollerski but it is really nice to have. Sometimes we'll travel to find snow, but usually there isn't enough coverage to make it better than roller skiing or running," said Wojcik.
Although last year Aspen experienced a wild snow year, with snow coming in large amounts or not at all, the 2017-2018 snow season looks to be a good one, especially for the Skiers.
As temperatures begin to decrease and fall sports are rearing to an end, we know that winter is on its way. Winter sports won't be far behind.