AHS Business Trip Returns from NYC
Hang on for a minute...we're trying to find some more stories you might like.
Generally, students at AHS learn lots while staying in the valley, however last week eight lucky business students were selected for an all-expense paid trip to the Big Apple. The annual seven-day trip, lead by teachers Sheri Smith and Steve Sand, is open to all students invested in business. Each day the group toured multiple businesses, learning about the various ways to become successful in the modern world.
"We are beyond lucky to have the support of one of our local business partners, Reese Henry, who are over-generous in what they do," Smith said. "I truly believe that it was an eye-opening experience for the students and something that gave them direction as they get into their undergraduate and graduate studies for business specifically. I think that the main message was that you should study what you're passionate about and what you're interested in."
Head girl and senior at AHS, Francesca Seeman, credits the trip for expanding her horizons and showing her many possible career opportunities.
"Overall, I walked away from this trip with a lot of perspective. I was reminded that there is so much opportunity in both the world and the realm of business. There really is potential to do something that you love, make a decent living and have a positive impact on other people's lives. That's the biggest thing I learned from this experience, and I think the value of that lesson cannot be overstated," Seeman said.
The trip was fully paid for by local Aspen company Reese Henry, with the purpose of connecting students to a future in business.
"I learned so much more than I had expected to. After seeing all the different companies, I had the ability to analyze the different cultures and environments of each. That is definitely going to be helpful in the future when I might be trying to pick a company to go intern at," Seeman said. "Also, I really enjoyed seeing what goes into some of the jobs at each company on a day-to-day basis. Each business was so different and that made it all the more intriguing."
Jack Halferty, hopeful future businessman and the only sophomore on the trip, feels that the trip has helped him discover his future.
"We got to visit a company called Spencer-Stuart, an executive search firm that helps large corporations recruit talented people for executive positions. I had never heard of this type of business before and it really helped me realize how many different careers are out there. These companies helped show me what I should focus on in school in order to enter the business industry," Halferty said.
After every year's NYC trip, inspired students return with new goals, plans, and attitudes, all prepared to enter the business world.
"I thought that is was super fun and really educational. It was a really informational trip, we learned about how the real world works and how we can become involved," Halferty said. "I would definitely recommend applying for next years trip to anyone who has a passion for business."

About the Writer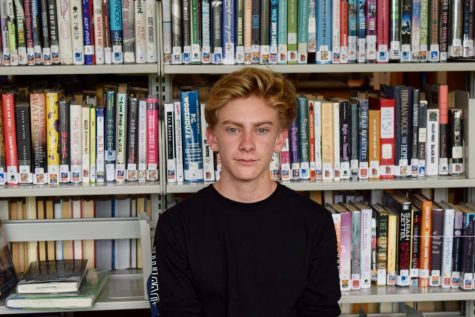 Tatum Diemer, Digital and Online Media Editor
Tatum is a junior at AHS and this is his second year with the Skier Scribbler, now working as a Layout and Design Editor. In his free time, he enjoys skiing,...