Sydney Forster: The new face of Cyclebar Aspen
Hang on for a minute...we're trying to find some more stories you might like.
While most students are getting their last few minutes of sleep before waking up for school, AHS senior, Sydney Forster, begins her daily cycling routine at 5:15 am. After spending months attending daily Cyclebar classes, Forster has become a cycle instructor, teaching three to four classes a week.
When Cyclebar, the indoor cycling studio, held auditions for new teachers, she decided to go for it. Despite Forster's age, Cyclebar head manager Danielle Grabarkiewicz, saw potential during the audition and hired Forster, making her the first high school Cyclebar teacher in Aspen.
"She has a good following between the moms and the kids at school," Grabarkiewicz said. "She brings so much positive energy and just enjoyment. You can tell she has passion to teach and she is happy and it shines through on the bike. She is great with music and people and has a lot of confidence."
Forster has already garnered a large following and captivates riders with motivational mantras and carefully curated playlists.
"Your voice helps a lot and your energy that you bring is really what motivates people so I just try to bring that everytime," Forster said."I hope that [my class] empowers them to push themselves harder than they think that they can."
Her followers have also noticed her authority while teaching and her powerful playlists. Maddy Leibinger, a senior at AHS, attends Forster's class often.
"She has great music and her rhythm is right on the beat of the music. I love how her class pushes me to challenge myself but it also makes me feel stronger every time I take it," Leibinger said. "It's so cool that she has the confidence and bravery to teach all these people at her age, I don't think I would be able to do that!"
On top of teaching multiple classes per week, Forster is also an IB diploma candidate and a varsity lacrosse player. While balancing these activities is difficult, she prioritizes school and uses Cyclebar as a stress reliever. Additionally, Forster has gained more confidence through teaching her classes.
"I have learned that it's ok to mess up and you can own up to it because I mess up all the time and you just have to own it and I am capable of more than I thought I was," Forster said,
Forster will be attending University of California San Diego next year and plans to keep teaching at the local Cyclebar there. In the future head manager, Shayna Kelly envisions Forster owning her own Cyclebar or athletic company.
"Whatever she decides, she is going to do well in because you can tell she follows with her heart," Kelly said.

About the Writer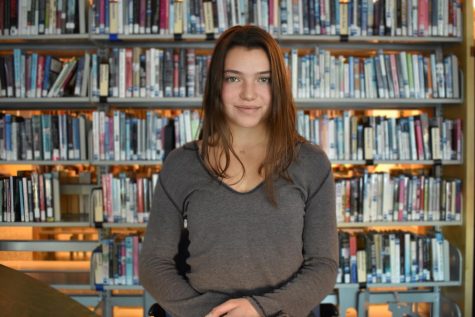 Jordan Fox, Editor-In-Chef
Jordan is a senior at AHS, and the Editor-In-Chief for the Skier Scribbler. This is her third year as a part of the paper and she plans on writing in college....