Recognizing Local Heroes: Amanda Boxtel's Story
Hang on for a minute...we're trying to find some more stories you might like.
The word heroes evoke images of Wonder Woman and Superman saving the day, but we often forget to recognize the heroes that serve our community. They may not wear capes, but their profound impact on society rivals that of the heroes we see on television and movie screens. Amanda Boxtel, a longtime Roaring Fork Valley resident, recently joined the ranks of Wonder Woman after CNN Worldwide named her a 2018 CNN Hero.
After a ski accident 26 years ago that left her paralyzed, Boxtel established the Bridging Bionics foundation that offers people with neurological mobility impairments access to cutting-edge advanced technology to improve their quality of life.
"I often think that for someone who is paralyzed it's a life sentence. I don't say it's a death sentence. I say it's a life sentence, and we are trying to change that, but paralysis is cruel at the end of the day," Boxtel said. "It's a challenging life, and it's difficult you know you have to suppress a lot, you have to suck up a lot where you just want to go hike a trail and you can't. I think just a real superhero is someone who has complete freedom of mobility and do anything they want."
Her biggest superpower is "gifting mobility" through Bridging Bionics and an exoskeleton. The exoskeleton puts her clients in perfect alignment and has helped to improve their neurological status. When Boxtel donated it to the community, it was one of only 98 sold in the world.
"When I was paralyzed 26 years ago, the doctor strode into my hospital room, and he said 'you will never walk again.' I think physicians are now less likely to state those words so frankly," Boxtel said. "This is through some of our clients who have been more recently injured; they have said 'No I wasn't told those word, they just said it's really a severe burst fracture to the spine, and the chances are unlikely,' but 'never walk again' isn't uttered. So I think it's a new day in age for spinal injuries."
Mackenzie Langley, AHS Alumni '16, has been working with Bridging Bionics since 2014 when she was in a car accident that left her paralyzed. A few months after her accident, she met Boxtel, who promised to help her once she returned home. Since using the exoskeleton, her high-intensity leg muscle spasms have decreased and she has been able to complete daily tasks more comfortably and was even able to walk across the stage at her high school graduation with just a leg brace and a walker. She is currently double majoring in political science and sociology and minoring in writing at the University of Denver and hopes to help others through non-profit work like Bridging Bionics has helped her.
"I have felt so lucky to be a part of the Bridging Bionics foundations and am even more grateful to have Amanda as a mentor," Langley said. "They have truly helped me rediscover myself after I lost many prominent aspects of my identity in the accident."
Even though Langley views Boxtel as her mentor, Boxtel struggles to accept the title of hero.
"It's just really humbling. I'm having a hard time owning it. I actually a couple of weeks ago burst into tears with one of my friends and I said 'I'm not a hero' because it's kind of a large word to live up to, and I think of a hero as an untouchable," Boxtel said. "I think we all have the hero inside of us, every person does, and the real heroes in our program are the clients. It's our team of therapists, our volunteers, and it's our clients because they are the ones that want to feel better. They show up, and as long as they keep showing up, we are going to meet them there. I'm not a hero; I'm just the puppeteer. I'm the one that just has the vision and then we have a team that carries it out."
In the future, Boxtel hopes to employ virtual reality in combination with the exoskeleton to help her clients progress. Through a non-invasive brain-machine interface, clients would be able to take a step in the exoskeleton by thinking it rather than pushing a button and could see themselves walking correctly in virtual reality. While the technology can help clients achieve their goals, Boxtel knows that they need much more than that.
"This is cliche, but just never give up. [It is important] to always live in hope, but to not just live in hope, but to live in acceptance," Boxtel said. "Acceptance and hope coexist. Acceptance is right here right now, and this has been my life lesson, that right here right now, I accept Amanda. It is what it is. I'm sitting in a wheelchair, but through that acceptance, it frees me to be hopeful for what that next moment might bring. I think that that's really important, acceptance and hope and to embrace both. To not give up, and thirdly to if you have a neurological impairment and say you're sitting down in a wheelchair to prepare your body to walk again."

About the Writer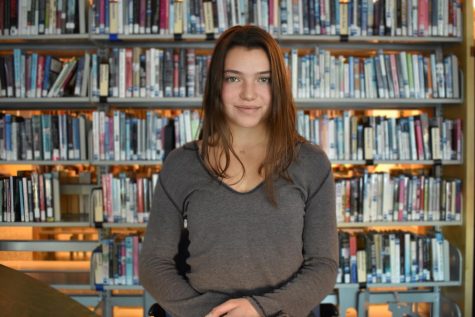 Jordan Fox, Editor-In-Chef
Jordan is a senior at AHS, and the Editor-In-Chief for the Skier Scribbler. This is her third year as a part of the paper and she plans on writing in college....