Summer Freedoms
The collective favorite part of school is coming up for students, and all of the different experiences are a must read. Summer is the time to be yourself and do the things that you've always wanted to do without judgement. It is the time to be whomever you've always wanted to, and there is nothing to worry about. Summer is a remarkable period of time for students at AHS, and it is virtually treated as a holiday. Whether it is tradition, or something new for a student and his/her family, summer is what we all look forward to, and it's right around the corner.
Nicole Buglione, a senior at AHS, said that her summers are her favorite time of the year She has participated in all sorts of trips and activities over the past few summer breaks, and she cannot wait for another one.
" I think that summer is probably what all students look forward to every year. I usually take one family trip, and at least one trip with all of my friends. The best part about summer in Aspen is that when your gone, you obviously get to see new places and whatnot, and when you come back you get to see all of the friends that you haven't seen in what feels like ages," Buglione said. " I love staying here as well because this town has so many things to do, so boredom is never really an option. I can't wait to see what this summer has to offer for my friends and I, and I hope that it is a great one for everybody else as well." Aspen is arguably one of the best places to be over the summer, so there are many students at AHS that enjoy a staycation The temperature is perfect, weather is sunny, and the surrounding geography is gorgeous.
Shane Guggenheim, a sophomore at AHS, refers to our town as a "paradise", and has stayed put in Aspen for the summer since he was in elementary school.
"I love summer in Aspen so much. It is what I have always done, and what I will probably always do for the rest of my remaining years at school here," Guggenheim said. " The best part is that you get to be with your friends all of the time, as well as meet new ones for the upcoming years. I couldn't really imagine going anywhere else, and at this point there is no real desire to travel either."
On the other end of the spectrum, there is also a group of students that travel worldwide for the entirety of the summer in order to find new experiences. AHS sophomore, Robert Courteney-Morris, falls under this category of students. He attends AHS for half of the year, and lives in Australia for the other half. He cannot wait to get out into the world and see what he can find.
"I have always traveled as much as I possibly could over the summer. I definitely understand that some people like to see their friends and stuff, but if you get to see them throughout the whole school year, then why wouldn't you go experience the world for a bit," Courteney-Morris said. " I look at summer as a time where you can really open your eyes and learn things based on experience, not by sitting in a chair all day while you get lectured. I hope that this is the best summer yet, and the same goes out to all of my fellow students."
Leave a Comment
About the Writer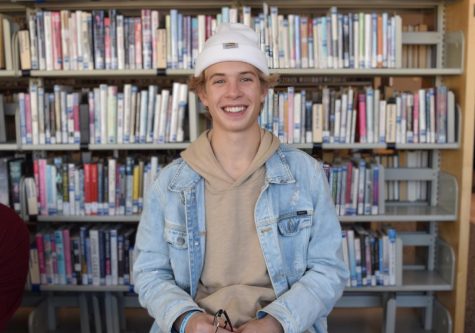 Ethan Hunt, Broadcast Producer
Ethan is the Editor in Chief of the Skier Scribbler, as well as a senior at Aspen High School. Ethan has also happily spent the last three years wit the...