Government acts on 'epidemic' of Juul use by adolescents
Hang on for a minute...we're trying to find some more stories you might like.
The U.S. government recently indicated that it is prepared to take a stronger stance against electronic cigarettes in order to halt an epidemic of teenage nicotine consumption.
On September 12th, the US Food and Drug Administration (FDA) ordered five popular e-cigarette manufacturers to address issues of the usage of their products among teenagers within the next 60 days, or else they will be permanently required to stop selling flavored "pods" that attract children.
This potential ban is targeted specifically towards Juul: a sleek gadget-like e-cigarette whose popularity has skyrocketed within the teenage crowd. The Juul has two components: the e-cigarette, which is the battery and temperature regulation system; and the "pod," which holds e-liquid made of nicotine, glycerol, benzoic acid, and flavorings. Pods come in a wide range of flavors and colors, such as mango, creme brulée, tobacco, cucumber, mint, and fruit.
Juul usage has become increasingly popular among this generation of teenagers, which poses dangerous threats to the possibility of addition. Assistant Principal Sarah Strassburger elaborated on these severe risks of addiction, especially in the student community at Aspen High School.
"These devices are very new, so we still don't know enough about the long-term effects. The legal age in Colorado is eighteen, and that's hard for kids because they think its a right of passage. They don't realize how highly addictive it is…it rules their lives," Strassburger said.
In the past two years, the number of kids that have been caught in possession of a Juul at school has skyrocketed. Aspen High School recently decided to address this situation as an addiction rather than discipline. If someone is caught vaping, they are not suspended, rather they are obligated to attend an eight-week vaping cessation course.
"We want to help these kids because there's been a huge increase in the number of students who use nicotine products in the last two years. Kids are doing it on their way to school, at school, at lunch, at home…it's all the time and it needs to be addressed," Strassberger continued.
Freshman Seminar and previous Biology teacher Karen Zohar discussed the addictiveness of nicotine, as well as the evidence suggesting that premature use has long-term impacts on adolescent brain development.
"It's particularly frustrating for me to see teenagers become addicted to this drug because it's so mentally and physically damaging, and extremely hard to quit. The adolescent brain is developing during this critical window of their lives, and nicotine will cause permanent damage… I want kids to have healthy brains," said Zohar.
Juul claims that their product is marketed towards adult smokers who are in search of a healthier alternative to cigarettes, but Officer Paul Hufnagle shared his thoughts regarding how this device is supposedly aimed towards teenagers.
"If you look at all the flavors and design of a Juul, it is clear that it is not designed towards helping adult smokers quit: they are geared towards young people. If you could see what a vape was ten years ago compared to what it is now, its a completely different thing. Nicotine seriously affects brain development, in the same way, that Marijuana does, as well as other drugs. Anything that harms the development of a young person's brain is a very bad thing, and there needs to be laws and regulations that encourage children to make better decisions," Huff said.
With such a sleek design and alluring flavors, it's easy to see why these devices attract the younger populations.
Unfortunately, a single Juul pod is equal to one pack of cigarettes, or 200 cigarette puffs, in their nicotine capacity. Sophomore Megan Smiddy expressed her concerns regarding the general well-being of all frequent users.
"The government should permanently ban Juul products because I don't think anyone really knows how bad it actually is for you. Many years ago, no one knew that cigarettes were bad for your body. Now, people are literally dying because their lungs are destroyed. That is exactly what's going to happen with Juul. I want my peers to live long, healthy lives and I think that Juul may prevent that," Smiddy said.
Not only is Juul preventing the healthy lungs of teenagers, but sophomore Sasha Barlozzinni is also concerned that it may be affecting one's ability to live freely without this device ruling their everyday lives.
"A lot of kids are hooked, and I think that something should definitely be done. Everyone constantly takes bathroom breaks to Juul. I see people having withdrawals when they don't have it, which makes them sad and depressed so then they just go buy more Juul pods. Also, it is breaking people's wallets… Juul is expensive," Barozzini said.
Despite the fact that Juuls are, in fact, very expensive — the device sells for $50 and four flavored pods sell for $20 — the device is not hard to purchase for teenagers. The legal age of purchasing a Juul remains 21 years old in some states, but 18 years old in other states, such as Colorado.
Junior Max Godomsky proposed a solution to the teenage usage of Juul including what the legal age should be to purchase nicotine products.
"Maybe the reason teenagers use it is because it's legal for them to use. In Aspen, you can buy tobacco/nicotine products at age eighteen at the Aspen Business Center gas station. If Aspen and other states made the legal age twenty-one, it'd made it harder for kids to get a Juul which would help regulate it towards only adults. Also, they should ban the fruity flavors of Juul, because those flavors make it so appealing to kids," Godomsky said.
While young Juul users have taken it upon themselves to spread the word, this company's official marketing campaign was targeted at adult smokers. In fact, Juul's stated mission is to "improve the lives of the one billion adult smokers."
Juul's packaging warns all users with the following statement: "WARNING: This product contains nicotine. Nicotine is an addictive chemical." Senior Josh Etkin believes that this statement is clearly a warning for children, and he spoke on behalf of Juul's mission.
"I don't think that the FDA has the grounds to shut down a large company whose product does help certain people. I don't believe that Juul, at any point, marketed their product towards teens or underage tobacco users; it was never their intention to be such a market to these kids. In terms of the company, they need to clearly define why they sell nicotine products and possibly what they want to avoid. Also, they need to investigate the main source of this teen usage, and then they can start to take action in that matter," Etkin said.
In regard to nicotine products in general, no device currently is as worrisome as the Juul. Junior Nick Spicer discussed the outcomes from both its exploding popularity and the large amounts of nicotine it contains.
"It's sad that kids Juul because they honestly just do it to be cool. At Aspen Middle School, there are vape detectors in the bathrooms. When middle schoolers are ripping Juuls, that's obviously a huge issue. An outright ban might be too harsh of a punishment, but I think that something along the lines of a fine to these companies would be in order," Spicer said.

About the Contributor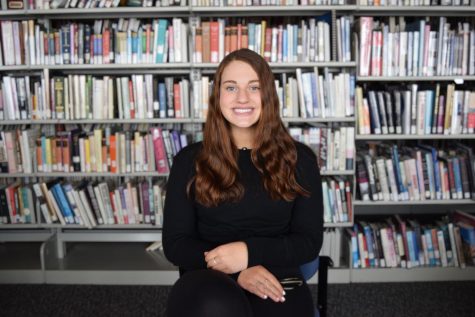 Sophie Schlosser, Staff Writer
Sophie is a new senior at Aspen High School, after being at boarding school in upstate New York for the past two years. This is Sophie's first year as...