10 ways to get the most out of the college fair
Every year Aspen High School hosts a massive college fair that helps students find their path after high school. The fair was created by Kathy Klug and is now the biggest college fair on the Western Slope. Over 246 colleges attend, as well as students from all over Colorado. The fair also includes 30 informational seminars; from gap year information to financial aid. Although the fair is extremely helpful to students, it can be a bit overwhelming and stressful. Here are ten tips to make the college fair stress free and applicable.
Know who is coming.
This year, the college fair will host 246 college representatives. It is essential to know what colleges are coming, which ones interest you, and where their booths are located. This will save you time and energy. Use this link to access a list of all the colleges attending: cwscollegeoutreach.org
      2. Make a plan
The college fair only lasts one day, so making a schedule will help you save time. Be sure to layout how many schools you want to speak with, which seminars you want to attend, and what time they begin.
      3. Form intelligent interview questions
Speaking directly with a college representative from a school you are interested in is a unique and special opportunity. Don't waste it! You should plan out which questions you want to ask before the fair. Also, avoid asking questions you can answer by looking online. For example, instead of asking, "Does your school offer biology?" ask, "What makes your school's biology program different than other schools?" Finally, most of the college representatives attended the college that they are representing. It is a good idea to ask them about their experience and why they love the school.
     4. Go to seminars with a purpose 
The fair offers over 30 seminars, and you can't go to all of them. Pick the ones that are most relevant to you, and that are unique to the fair (don't just go to financial aid and call it good.) Also, gather background information and come in with questions.
    5. Take notes
The college fair is an information hub, and it's hard to remember all the information you learned. Taking notes during seminars and discussions with college representatives can help you remember the information and look back on it at later times. It also demonstrates that you are interested in benefiting yourself.
6.Physical Appearance
Your physical appearance may not seem important, however, the goal of talking to college representatives is to impress them. A basic dress code would be a nice shirt or blouse, slacks, a skirt or non-ripped jeans, comfortable shoes, and a jacket. 
Mental appearance
There are many things you can do to make yourself seem immature that you should avoid. For example, language (swearing, slang, uneducated speech.) Your body language and attitude can say a lot about you. Don't fiddle, mumble, or act uninterested in the discussion. Making eye contact, speaking with confidence and smiling can go a long way. 
Talk to college representatives alone: don't go up with friends or parents
One way you can demonstrate your maturity and dedication is by doing a lot of the college fair alone. Avoid just talking to the colleges your friends are talking with. Similarly, when talking to a college representative, don't walk up to them with a bunch of friends or your parents crowding over you. The discussion is about YOU and YOUR interests in that school.
Practice!
As always, practice makes perfect! If you are nervous about talking to a college representative, start by talking to one from a college that you are not as interested in. That way, you can get rid of your nerves and probably learn something new! 
Have fun and don't stress!
Finally, have fun! College admissions and preparing for your future can be very stressful, so it is important to remember that the fair is not life or death. If you stumble over your words, you are not destroying your future! It's all about learning something and helping you plan your best life.
Other information about the fair:
Date:  Sunday, October 6th, Workshops start at 10:00 AM and Fair Tents are open from 10:30 until 2:00.
Place:  Aspen School District Campus:  NO Parking on campus…all parking is located at the Buttermilk Ski Area lots with shuttles galore to campus and The Music Associates of Aspen Parking Lot at 5th Street and Gillespie in the West End of Aspen.  Turn off Main down 5th toward Music Tent and there is the lot with shuttles to campus. Give yourself 30 minutes for parking, shuttle, and arrival.
Food Trucks on Campus:  there are two food trucks with Biscuits and Pizza for sale all day.
Plastic Free Environment:   Bring Your Own Water Bottle (BYOWB): we have multiple filling stations throughout the campus in order to be environmentally friendly.
About the Writer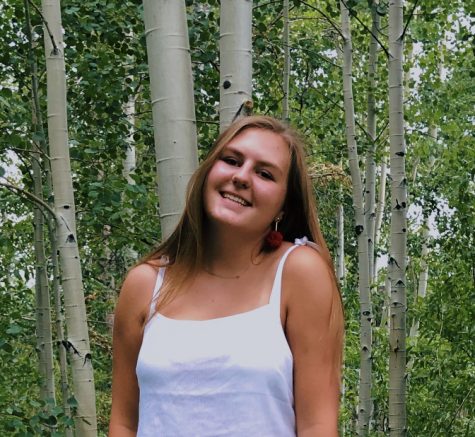 Tessa Guthrie, Editor-in-chief
Tessa Guthrie is a senior at AHS. She is currently one of the Editors-in-Chief. This is her fourth year writing for the Skier Scribbler. She loves to ski,...